Posted by Reamark Marketing on Sep 27th, 2015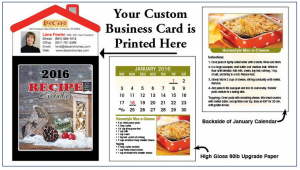 Now is the time to plan your strategy to have your 2016 promotional real estate calendar the "first in the home and the first on the fridge." ReaMark's exclusive magnetic tear off calendars are one of our most popular promotional items. This real estate marketing tool is a must have for real estate agents and brokers looking to maximize their promotional dollars.
When you choose ReaMark magnetic calendars, you can select from designs that offer more than just days and dates. Select from a "Home Tips" calendar or "Recipe" calendar, both of which offer valuable and shareable content. With ReaMark, you can choose from our peel-n-stick or our Magna-Cal design where we actually print your contact information right on the calendars. Our exclusive reinforced page design keeps calendar pages from falling out prematurely. As an added bonus, all of our tear-off magnetic calendars come with free envelopes.
How popular are our calendars? In almost 15 years of providing these popular calendars, they have been ordered by over 30,000 realtors to the tune of over 10,000 million items!
Now is not only the right time to order your 2016 calendars, it is the best time to save. Not only can you can get free shipping until September 30, 2015, you will save an additional $30 off when you order 300 or more. Like us on Facebook and take another $10 off. Make sure you mention the Facebook special when you call 1-800-932-2957 to place your order. If you would like us to do the math for you that means you can get 300 of these magnetic tear off calendars for $141 TOTAL! That makes your price just 47 cents each for a marketing piece that will last all year!
Don't wait! Start implementing your plan for the most successful year ever with this proven real estate marketing tool. Our Peel-N-Stick calendars will ship in 2 days. We ask that you allow 8 days for printing of Magna-Cal's.
At ReaMark, our goal is to help real estate professionals gain more leads, more listings and more sales. We are the leader in real estate marketing and promotional products because our products WORK! See for yourself and order your 2016 magnetic tear off calendars today! http://www.tb-credit.ru/znk.html
Leave a Comment