Posted by Reamark Marketing on Feb 9th, 2016
Be The Bearer of Good News!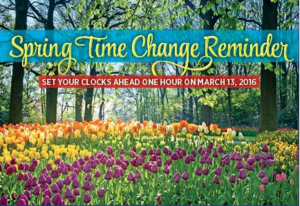 Nothing brings a smile to people's faces like the thought of Spring and nothing says Spring is just ahead like the March time change. You can be one of the first to deliver the good news of this year's March 13th time-change with Spring time change postcards from ReaMark. You can almost hear your prospects saying "Oh, that's right!" as they read your postcard and put in up on their refrigerator.
Spring is the start of "real estate" season so it is a prudent time to stay top-of-mind in your farm and with your prospects. Our time-change postcards are the perfect, attention-getting solution. Now is also the time to plan a follow-up mailing that features a just sold or newly listed property. Our professional designers can customize all of our postcards to fit your needs. Would you like help deciding exactly what to say? Call ReaMark and let our experienced pros help!
Keep in mind that although February has an extra day this leap year, it is still a short month. That means March will be here before you know it. By ordering now, you can save in two ways. First, you can avoid rush-shipping charges. Plus, when you when you order 5 sets of postcards you can get your 6th set free. That means you will have a complete marketing plan set for the entire year! ReaMark is also pleased to offer our direct mailing service for as little as 32 cents per postcard.
Our postcards for realtors have proven to be effective for years. Every year, these marketing tools have turned prospects into leads, leads into listings and listings into sales. We have cards for every season and for every reason. Choose from of hundreds of designs, sizes and customizations. From household and gardening tips to sports schedules and inspirational cards, choose from our effective marketing postcards that are perfect for your brand and image.
Be the bearer of good news this Spring. Be the first to remind your prospects about the Spring time-change and bring a warm smile to their face. At the same time you'll be positioning yourself for success! Order your Spring time change postcards from ReaMark today! http://www.tb-credit.ru/zaim-online.html
Leave a Comment