Posted by Reamark Marketing on Oct 23rd, 2018
Real estate agents are constantly looking for new ways to farm for new leads. While word of mouth, signage and networking are effective ways to build a base of potential customers, nothing beats effective direct mail strategies as a way to keep the pipeline of buyers and sellers fresh.
Why Use Direct Mail to Farm for Leads?
Direct mail is a proven approach that has been used for decades. Even in the digital era, receiving valuable information in the mail, along with some advertising for those needing real estate services, creates an impression that can linger for those who receive the materials.
Consistent and persistent direct mail strategies also help to drive insights and information about where your best customers are, how they respond to different appeals or products, and how to better reach them. By fine-tuning your messages and products that are a part of your direct mail outreach, you can better use your marketing dollars to reach the best customers.
What's more, direct mail helps build awareness about you, your agency and your services. Very few of us buy on first glance. Over time, as we begin to develop an understanding of a product, service or brand, we gain a deeper understanding of how a particular provider can best serve our needs. Direct mail is a great way to help create that long-term awareness.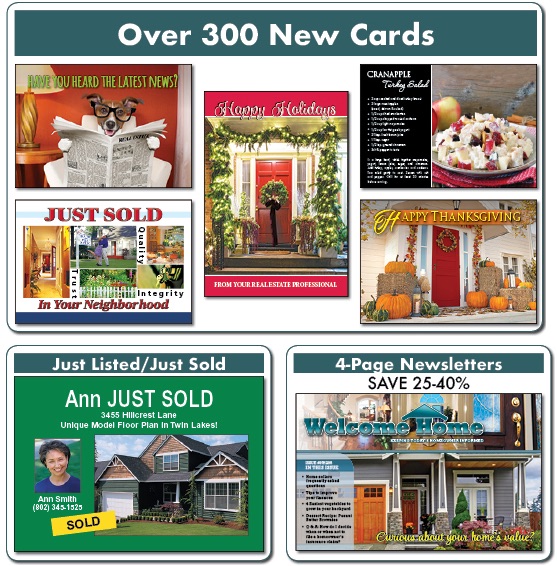 How Does Direct Mail Help Get Your Message Out?
Direct mail is only as effective as the strategy behind it. You need to identify the direct mail pieces, add-ons, and frequency that work best for your region and client base. When creating your direct mail marketing campaign, here are some things to consider:
Message – What are you trying to convey? Options can include your experience, your areas of expertise, knowledge of local markets, reputation. If you offer quick closings, serve a niche market or live in the community, you may want to focus your message on those particular attributes. Similarly, don't try to cover too much at once. Instead, make sure people know what you're offering, who you are and how to contact you.
Length and Frequency – How long will your direct mail campaign run? You want to keep your message consistent and deliver it several times, but you also want to be sure you hit people enough times that the message sticks.
Response Rates Understanding – Typical response rates for your real estate direct marketing campaign is important. The first direct mail piece may have a very low response rate but patience is a virtue. The more awareness you provide, the more likely you are to get calls or responses to your follow-up efforts.
What Are Good Real Estate Direct Marketing Ideas?
At Reamark, we offer a full range of products to make your direct marketing campaign more effective. Whether it's full-color postcards, real estate newsletters or calendars, we offer prompt turnaround to get you products you need. We offer online and print catalogs with thousands of products and titles to keep your message fresh and eye-catching. To learn more about how Reamark can help with your marketing needs, contact us for a free catalog!