Posted by Rick on Sep 30th, 2021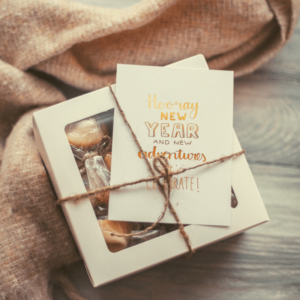 At the end of the year, smart Realtors concentrate on real estate direct mail marketing campaigns. End the current year on a high note and start building leads for next year with customized greeting cards and other Realtor marketing tools.
Many people have stopped sending holiday cards, but everyone loves to get warm messages in the mail. Capitalize on this marketing opportunity to thank customers for their support, ask for referrals, and send a small gift in the form of a recipe calendar.
Thank You Cards: Reach Out Before the Competition
Beat the holiday rush on greeting cards by sending thank you notes for completed closings year-round. Add an extra Thank You card in October or early November to let past and present clients know you appreciate their business. Since you can customize your cards, you can include your contact information and ask for referrals or remind them that it's still a great time to buy or sell.
Example: Real Estate Closing Thank You Letter For Buyers
Dear [customer name],
It was so much fun helping you find a home that meets your family's needs! I wish you and your family a happy holiday season and hope you can add many joyful future memories here.
Reach out if you have any questions or future real estate needs. I look forward to staying in touch and would love to work with your family or friends to help them achieve the same happiness that comes with homeownership.
Congratulations and Happy Holidays!
When you order early, you can get your cards out before everyone else is filling up your customers' mailboxes.
Follow Up With Magnetic Recipe Calendars
Calendars are useful tools that add a bit of color as well as a reminder of the day of the month. Our recipe calendars provide a beautiful picture of the finished meal as well as a recipe that clients can tear off and share or file away for future use. Every time your client or perspective client checks the date, they'll see your smiling face and contact information. Keep your name top of mind with rectangular or house-shaped recipe magnet tear-off calendars. We also throw in free envelopes to protect the top recipes and give your gift a more professional look.
Magnetic calendars help you engage with your clients daily and they are a cost-effective way to maintain exposure all year. Clients particularly love recipe calendars because of their utility. Everyone is always looking for new ideas to switch up the dinner routine, especially during the busy holiday shopping season.
Customize your magnetic recipe calendars with your contact information, picture, and other crucial information. That way, when your client is ready to buy or sell, they'll have a realtor at their fingertips. It's a highly effective real estate marketing tool!
Send an "I Love Referrals" Postcard in January
Start building leads early next year with custom postcards requesting referrals from satisfied clients. Let your customers play the hero by connecting friends and family with an experienced real estate agent who's already helped them.
You can follow this up with humble but assertive self-promotional postcards listing your recent sales and closings.
Contact ReaMark today for more ideas on how to build a strong real estate direct mail campaign for the end of the year!