Posted by Reamark Marketing on Oct 19th, 2017
As we head into the fourth quarter of 2017, it's time to make plans for the upcoming year. If you are like most real estate agents and brokers, you'll be looking to getting the biggest bang for your marketing buck and ReaMark is here to help with our 2018 wall calendars. It's time to order from our proven effective selection of calendars.
Here are six tips as to why Reamark calendars are both a powerful marketing tool and a cost-effective way to reach customers and prospects.
Six Tips on Using Wall Calendars for Real Estate Marketing
1. Perfect Timing
Offering calendars to customers leads and prospects during the fourth quarter gets them "first in home" which is important for calendars. These first calendars are more likely to be kept and displayed. Ordering calendars too late in the season can make you appear to be a "Johnny come lately" when it comes to promotional products.
2. Exceptional Value
Calendars provide valuable information for families for 12 months or more. They are put on walls, displayed on refrigerators, desks, and in wallets for a full year giving you valuable visibility for an extended period. That is value!
3. Wide Selection of Designs and Styles
At ReaMark, we have over 300 different designs of real estate calendars in 10 different styles. This means you can choose a design and style to best fit your message and how you want to brand your business. Want a customized edition? Our professional team can help with your message and graphics!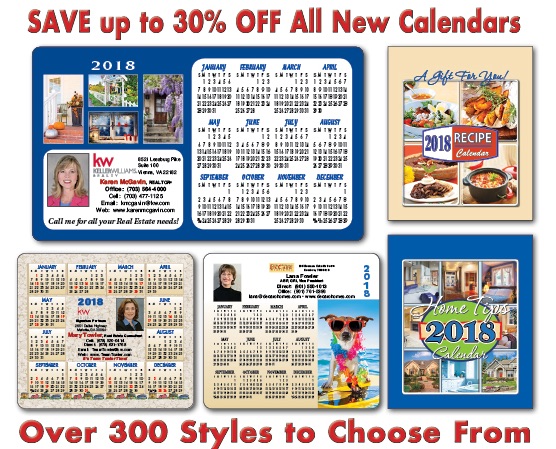 4. Calendars are Appreciated
While some real estate items are throwaways, calendars are appreciated by those who receive them. They help families plan for vacations, schooling, and celebrations. They place your name front and center every time they are looked at.
5. Multiple Marketing Uses
Our ReaMark real estate marketing calendars can be used as a "thank you" or holiday gift for current customers, sent out as direct mail pieces, hung on doors or given away at community events. You just may be surprised with how often you are asked, "may I have another for a friend?"
6. Proven Effective
Many real estate professionals have built their business on real estate marketing calendars. It is a staple of their marketing plan each year. As new agents move toward more digital marketing, it increases the value of a tangible item like a calendar. You can even combine the two, offering calendars to those who respond to your email or social media marketing!
Now is the time to act as we are offering 2018 wall calendars at terrific savings during our New Year Sales Event. You can save 20-30% on everything from our magnetic calendars to our desk and 2018 wall calendars. Deck the walls, refrigerators, desks, and wallets this season with a selection of real estate marketing calendars from ReaMark!