Posted by Reamark Marketing on Mar 31st, 2015
It has been said that "What you say times how many times you say it is the only thing that works in marketing." That is why real estate post cards are so valuable in a marketing plan today. When you touch base with a specific market consistently over the course of time, it serves to brand you and your business as being a local expert. You are demonstrating you will be there over the long term.
Right now, real estate season is in full swing and it is the perfect time to lay out your six month real estate postcard marketing plan and ReaMark is here to help. We are offering a Buy 5 Get One Free offer on our postcards for realtors. This will give you six straight months of "touches" with your desired prospects.
What's more, we're even giving you six ideas to use in your new marketing plan!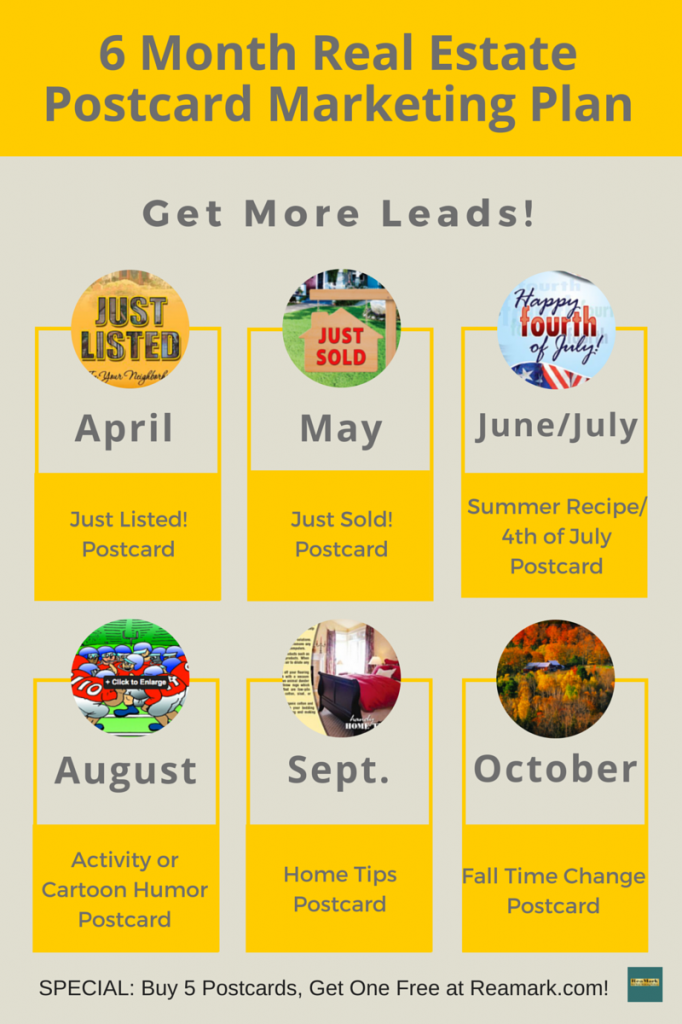 April – Just Listed Postcard
Early Spring is a perfect time to show activity is blooming with a "Just Listed" mailing. We have over 190 styles to choose from. One will be perfect to help you encourage new listings.
May – Just Sold Postcard
When you follow up your "Just Listed" April mailing with a "Just Sold" postcard, it shows there is movement in the market and demonstrates your capabilities. Ask about our custom options.
June/July – Summer Recipe or 4th of July Postcard
Select a recipe card that has a timely summertime or Fourth of July recipe. We have over 260 styles of recipe cards to give you the widest selection of easy to make recipes your prospects will love. We've tried them all! Recipe cards give you long-lasting exposure and are often shared. We also have a great selection of 4th of July Postcards to choose from.
August – Activity or Cartoon
The heat of summer is the perfect time to lighten things up with one of our "Cartoon Humor" cards or fun "Spot the 6 Differences" cards. It also communicates you have a sense of humor and are approachable.
September – Home Tips
The kids are back in school and it's time to get your home ready for the colder weather ahead. Your "Home Tips" card will arrive just in time! Choose from 100 styles with everything from maintenance suggestions to money saving energy tips.
October – Fall Time Change Postcard
It is time to "Fall Back" and your prospects will appreciate this "timely" reminder to set clocks back an hour.
Real estate postcards have been proven effective time and time again. With our special Buy 5 Get 1 Free offer there may be no better time to give it a shot! You may discover it's your new favorite way to farm a neighborhood.
At ReaMark we specialize in real estate marketing products. We work with our professional real estate clients to develop promotional and marketing products that work. If you are ready to increase your listings, sales, and income, contact ReaMark today!