Posted by Reamark Marketing on Mar 25th, 2016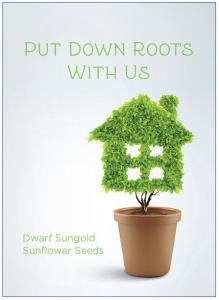 Help your farm celebrate spring and grow new leads with ReaMark's new seed packets for real estate agents. These seed packets make a seasonal statement that your existing and prospective clients are sure to appreciate. Mailable seed packets provide a functional and personalized way to reach out and touch your farm, while keeping your name and contact information first and foremost on their minds.
4 Styles to Choose From
ReaMark's quality seed packets come in a choice of four different styles, each designed to attract your clients in the most appropriate way for the relationship and the situation.
1. The Thank You Seed Packet is ideal for sending to clients with whom you've already done business. Whether you're hoping to make a new sale, get a referral or just want to express your appreciation, this style is sure to make a good impression.
2. The Where Memories Grow seed packet, made up of a wildflower seed mix, is ideal for checking in on your past clients or just reminding them of your services.
3. Make a spring statement with the Growing Houses Into Homes seed packet filled with forget-me-not seeds. Use this seed packet as a marketing tool for new or older clients, as well as prospective clients who have are not yet familiar with your services.
4. Mail the Put Down Roots With Us seed packet, filled with dwarf sunflower seeds. Send these out to targeted recipients in your real estate farm to help spread the word about your agency.
Perfect as an Agency Incentive
These 3.25″ x 4.5″ seed packets are perfect as an agency incentive for your Realtors. Purchase in bulk quantities of 100 or more and pass out to your real estate agents for use at open houses, direct mailings, trade shows, house and garden shows, or to hand out around town at coffee shops, restaurants and more. Give your Realtors just one more tool to sow extra business for your agency.
Combine With Photo Labels
ReaMark's seed packets must be mailed inside an envelope to ensure safe delivery, as well as compliance with the USDA regulations. Why not harvest all possible leads by using a photo label on the envelope as a return address label on seed packet envelopes, as well as other mailing pieces?
Call today to order everything you need to leap into spring with your lead campaign!