Posted by Reamark Marketing on Jan 15th, 2016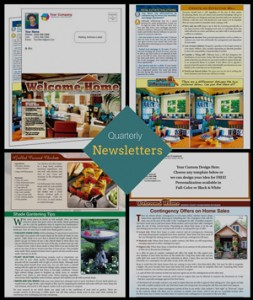 Real estate brokers and agents recognize the value of newsletters in staying in contact with clients and connecting with prospects. The challenge is that newsletters can be time-consuming to put together, especially when trying to include interesting and valuable information. That's why so many real estate professionals are turning to ReaMark for customizable real estate newsletters.
Our newsletters offer different sections that include:
Information for homeowners and real estate tips like how to refinance a mortgage, market trends, and information about contingency sales.
Home maintenance tips including home improvement ideas, gardening tips, and how to prevent mold damage.
Fun and amusing activities including comics, crossword puzzles and "spot the difference" games.
Other helpful information like getting started with creating a will, what to recycle, what you shouldn't carry in your wallet and more!
What makes our newsletters so appealing is that they feature two large, fully customizable areas that real estate agents and brokers can use to speak directly to their farm to generate leads. Our designers can help with the design of these areas to include any of these ideas:
A free home value estimate offer
Highlight recently sold properties in the area
Feature a property that was just listed in the area
Call to Action for referrals
These newsletters look professional and local, helping to brand you as the neighboorhood expert! Plus, sending out newsletters on a quarterly basis keeps you top of mind with your market when the time comes to buy or sell.
Choose from over 60 designs with black & white personalization or our new full-color personalization. Our four page newsletters are designed to be sent quarterly and also come available in half-fold and tri-fold options. Build your brand, enhance your image and generate leads with these proven marketing products from ReaMark. Nobody gives you more options!
ReaMark even offers mailing services for as little as 36 cents each. Order today and your newsletter can be in your farm's mailboxes within 6-12 business days with 2 business days for proofing, 2-5 days for printing, and 2-5 days for postal delivery. Plus, if you order now, you can save 15-30%.
Get your year off to a great start with more leads generated from your own professional newsletter from ReaMark. Call ReaMark and talk to one of our professionals and order yours today! See why more and more real estate professionals choose ReaMark for their marketing and promotional products.