Posted by Reamark Marketing on Jul 31st, 2014
By Rick Brown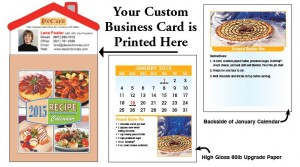 This week, Reamark will release our freshly designed line of 2015 tear-off magnetic calendars with a new recipe for each month. With beautiful, vibrant colors, each recipe has been tested and approved by the Reamark team to be delicious and easy to make. No exotic ingredients needed, just real recipes for real people.
The tear-off magnetic calendars come in two different options: the ready to ship, peel and place business card design or a customized printed design that usually ships within 5 business days. With the customized printed design, you can choose from the standard rectangular magnet or stand out from the competition with the house-shaped magnet.
If you only do one real estate promotional item to your farm a year, this is it! The calendars are easy to use, they stay on the fridge all year long, and we provide you with free blank envelopes for easy mailing. This year our tear-off magnetic calendars will have double-sided print and new, high gloss paper for a refined, professional look. Additionally, we use stronger, reinforced pages that are high quality and won't fall out after a few months.
Bonus feature: Each calendar features a quick kitchen reference on the back with common measurements, common substitutions, and food equivalents.
These new designs will be ready to ship by Friday, August 8th so get your order in now! If you order soon, you'll not only save 20%, but your calendar will the first in the home and first on the fridge.