Posted by Rick on Jul 9th, 2020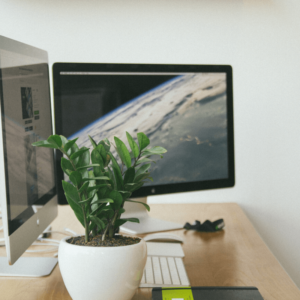 Despite social distancing and PPE requirements, it's still possible to show and sell homes safely. By taking advantage of digital technology, real estate agents can direct homeowners on how to stage the property and conduct virtual tours with home buyers sitting safely at home. Let's take a look at what applications agents are using to show homes virtually and how you can maximize your exposure with smart direct marketing.
Virtual Showing Technology
For empty properties, you can still do live showings, walking the client through the home, pointing out features and lingering in certain rooms remote buyers want to see more of. Some owners invest in virtual reality home tours that give prospective home buyers a panoramic, 3D view of each room. Virtual neighborhood walks and drives provide even more context for buyers to make an informed decision.
Thanks to new technology, virtual showings reveal much more than clicking through gallery pictures. Best of all, you can maintain social distancing rules and help all parties stay safe and healthy.
Best Apps for Video Tours
There are a number of ways to conduct digital tours from your Android or iPhone. Whether you're using FaceTime, Facebook Live, Zoom or What's App, you can film your tour to post on social media or to clients expressing an interest in the home.
This marketing method lacks the sophistication of glossy video tour productions, but gives the tour a personal feel, much like regular in-person showings do. There are also many free, open-source applications you can experiment with for videos that allow you to virtually stage the home for different clients.
Some Companies Are Buying Ad Time
National and regional real estate firms are buying ad time on cable and network television touting COVID-19 safe practices, including virtual tours. This raises awareness for this type of home showings for potential buyers and sellers and helps normalize the practice. Whether you fall under the umbrella of a regional or national real estate company or out of a smaller local office with smaller marketing budgets, direct mail is a great way to communicate to local sellers in your market. And if you don't have the support of a mass media budget, it's the best way to reach your local target market.
Direct Mail Fits In Your Marketing Budget
Direct mail campaigns allow you to reach target homeowners who might be ready to sell and worry about having buyers in their homes. Choose from jumbo full-color postcards that contain your latest sales in the area, as well as your contact and other important information. ReaMark also has a full selection of COVID-19 postcards designed to help families get through the pandemic together.
You can add recipes, home selling and maintenance tips, and advice on how to stay entertained during lockdown. Instead of going big, you are micro-targeting certain neighborhoods and homeowners in an impressive yet personalized advertising channel. Just make sure you are memorable and sincere in your messaging!