Posted by Reamark Marketing on Aug 19th, 2021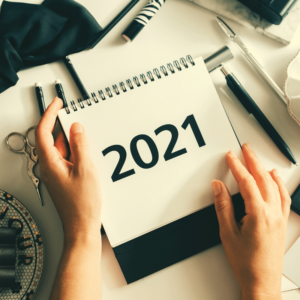 Fall is just around the corner. Soon, the crisp autumn air will mark the start of a new season and students will settle into the school year. Some homeowners and prospective buyers now have more time to devote to their real estate goals. So, now is the ideal time to send out calendars for the new school year or 2022. Remember that some lead time is required to place your order, making this the ideal time to select your style and message.
Calendars Make Effective Real Estate Direct Marketing Pieces
Would you like to end the year with higher sales? Then, it's crucial to get ahead of your real estate calendar marketing. Learn about the different styles available and choose the ones that best meet the needs of your business. Here's what one realtor had to say about ReaMark calendars:
"I have been a loyal customer since 2010 and I can truly say that I get most of my business from sending your Recipe Magnetic Tear-Off Calendars in October and then staying in touch by complimenting them with regular mailings of ReaMark Recipe Postcards. My business is built on referrals and my clients perceive my cards and calendars as free gifts.- "Phyllis Vollrath, Vollrath Realty – Brandon, Florida
Types of ReaMark Calendars to Choose From
Magnetic calendars stick to refrigerators, filing cabinets, and metal desk frames. They provide a useful tool for your clients and keep your contact information handy year-round. You can select house-shaped, rectangular, or custom designs in a variety of styles. Tear-off magnetic calendars come with recipes, tips, or scenic views. Also, home and business owners are likely to glance at calendar realtor marketing often, keeping you top of mind when they decide to buy or sell in your farm area.
Save on shipping with jumbo postcards with a magnetic strip or go traditional with stapled wall calendars featuring recipes or seasonal pictures. Themes include black history and patriotic styles as well as health tips, motivational themes, and scenes from across America. Need help selecting fun styles for your real estate marketing? Our staff is happy to lend a few pointers based on our extensive industry experience.
Choose from school calendars to help busy parents stay organized. Alternatively, you can send out sports schedules for basketball, football, and other local sports franchises. Die-hard fans will never miss a game and these marketing calendars help them associate your service with teams they love.
Whatever style you choose, calendars are an effective form of real estate direct mail marketing.
Calendar Realtor Marketing Benefits and Tips
Now is the time to order. Here are just a few benefits and tips to keep in mind for your calendar realtor marketing plans:
Beat the end-of-year rush and avoid delays in getting your message out.
Help busy parents keep track of school service days and holidays.
Include your contact information and website to make it easy for clients to reach you.
Give prospective clients a useful gift that creates goodwill.
Use calendars to highlight your services or help homeowners get their property ready for sale.
Sending more than one calendar type and style gives prospects an easy way to share your information with family and friends. They can also keep one at the office and one at home, resulting in additional exposure for you!
Contact ReaMark today for more information on calendar realtor marketing ideas. We would be happy to suggest ways to combine calendars with other real estates direct mail marketing such as postcards and holiday newsletters to keep your name in front of clients. Get your order in now to help increase your sales for the year!