Posted by Reamark Marketing on Feb 25th, 2016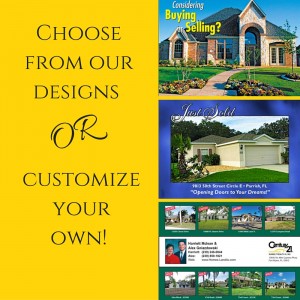 EDDM, or Every Door Direct Mail, is a great real estate marketing tool for Realtors to generate new leads. With spring arriving early in many parts of the country, now is the time to get those promotional materials into mailboxes and start getting new leads.
EDDM is an easy to use service that allows you to select target neighborhoods and reach all of the residents. Our team of professionals will help you select the best marketing piece for your needs and the U.S. postal service does the rest! There is no easier way for real estate agents to reach their potential clients. EDDM is also a cost effective method with postage as low as $0.22 per card.
Getting Started with EDDM
Sending a marketing piece out is as easy as 1-2-3:
Take a look at the mailing routes in your area to determine your quantity.
Select your preferred design from our website or call us for one-on-one assistance. Bonus: We offer free custom design with your purchase. Customize your piece easily to showcase a new listing or recent sale.
Approve your design within 2-3 business days.
That's all it takes to reach every home in your farm. EDDM should stand for Easy Door to Door Marketing.
Tips for Getting the Most from EDDM
As with any marketing effort, you want to be sure that you are getting a return on your investment. Here are a few ways that you can track the effectiveness of your direct mailers.
Free Home Value Analysis – Create a call to action on your mailer to get a free market analysis with a unique link to your website. You can use free services like Bit.ly to track how many visitors visit your page from this particular mailer. Be sure to require an email address in your form so that you can follow up.
Ask for Referrals – Using a call to action for referrals is another great way to generate leads from postcards. Offer a $5 coffee shop gift card for each referral that someone sends your way.
Telephone Tracking – Another way to track how many leads are generated is with a call-tracking phone number. Be sure to research this methods as there are a few pros and cons.
Ready to get started with EDDM? Browse our designs now or give us a call at 800-932-2957.