Posted by Reamark Marketing on Apr 28th, 2015
At Reamark, every day we work with agents and brokers on real estate marketing ideas. One common denominator is the search for just the right descriptive words for real estate marketing materials. According to a recent study from Zillow, using certain words in your marketing materials can actually assist in a higher final home sale price. Here are some real estate synonyms to spice up your property descriptions and marketing materials.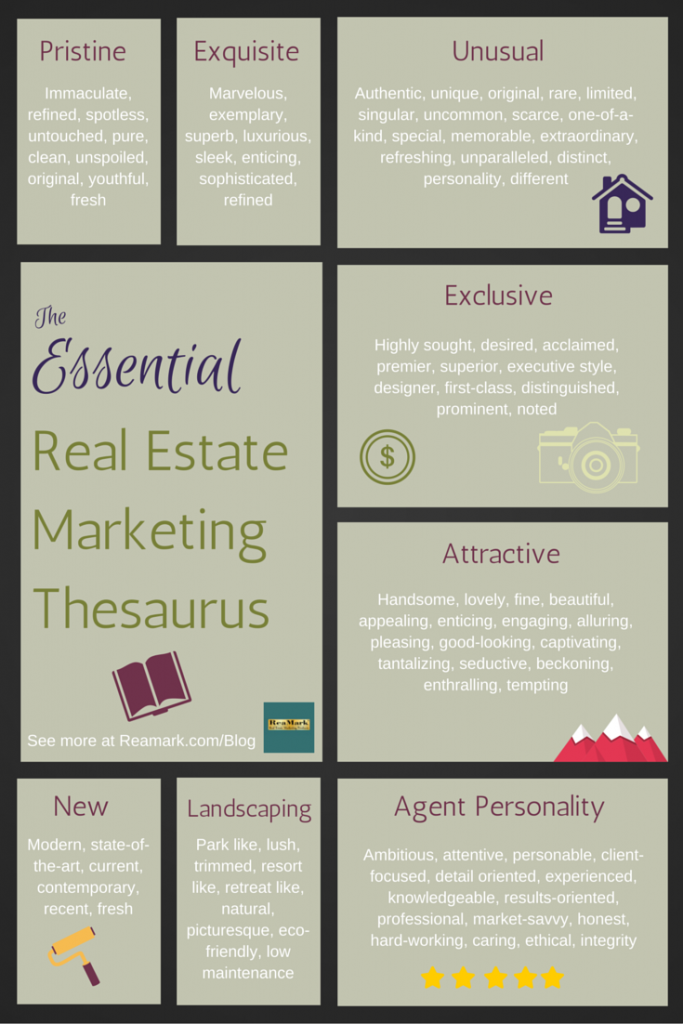 Share this Image On Your Site
Please include attribution to Reamark.com with this graphic.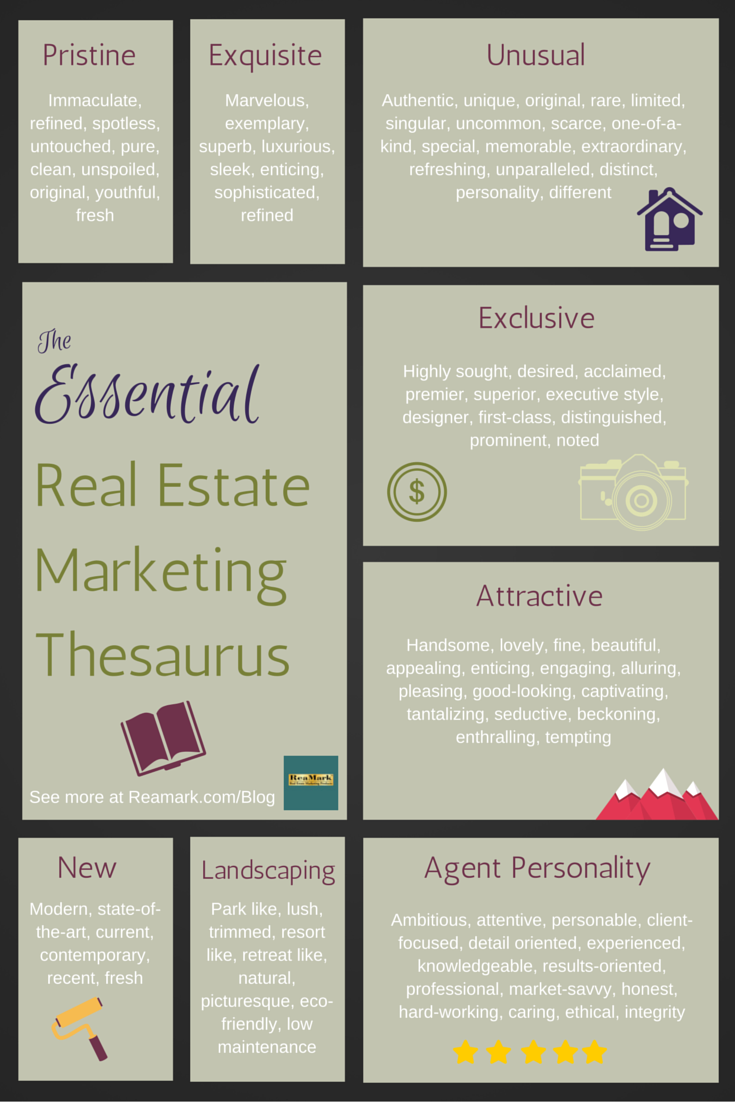 Extended list of Terms for Real Estate Marketing Materials
PRISTINE: immaculate, refined, spotless, untouched, pure, clean, unspoiled, original, youthful, fresh
UNUSUAL: authentic, unique, original, rare, hard to find, limited, singular, uncommon, scarce, one-of-a-kind, special, memorable, extraordinary, refreshing, out of the ordinary, unparalleled, distinct, personality, different
EXQUISITE: marvelous, exemplary, superb, luxurious, sleek, enticing, sophisticated, refined
SMALL: petite, quaint, charming, efficient, modest, diminutive, adorable, cute, humble, slight
LARGE: impressive, generous, spacious, roomy, bright, open, rich, liberal, panoramic, stately
PRIVATE: secluded, tranquil, peaceful, discrete, personal, isolated, independent, individual
EXCLUSIVE: highly sought, desired, acclaimed, premier, superior, executive style, designer, first-class, distinguished, prominent, noted
NEW: modern, state-of-art, current, contemporary, recent, fresh
OLDER: classic, timeless, traditional, character, vintage, time-honored, long standing
INEXPENSIVE: affordable, economical, modestly priced, cost-effective, nominal, reasonable, fair, budget, efficient
ATTRACTIVE: handsome, lovely, fine, beautiful, appealing, enticing, engaging, alluring, pleasing, good-looking, captivating, tantalizing, seductive, beckoning, enthralling, tempting
CONVENIENT: available, easy, advantageous, favorable, conducive, handy, accommodating, well suited
IN DEMAND: desired, coveted, sought after, targeted, popular, fashionable, trendy, celebrated
LANDSCAPE DESCRIPTIONS: park like, lush, trimmed, resort like, retreat like, natural, picturesque
VIEW DESCRIPTIONS: stunning, awe-inspiring, sensational, impressive, striking, dazzling, remarkable, winning, unparalleled, panoramic, outstanding
AGENT PERSONALTY: ambitious, aggressive, attentive, personable, caring, customer-focused, detail oriented, communicative, experienced, educated, empathetic, knowledgeable, goal-oriented, results oriented, hard-working, caring, professional, market-savvy, ethical, integrity, honest, upfront, refreshing
Verbiage has always been critical in successful real estate descriptions and marketing materials. Expanding your creative use of words can help you stand out from the crowd and can increase the final sales price of a home according to a recent Zillow study. So can using the right advertising materials.
Reamark is a long standing leader in the real estate promotional and real estate marketing materials industry. We have customization services available at no additional charge. Our customer service representatives are here to help you move prospects to leads, leads into listings, and listing into sales. Contact Reamark today and let's discuss your goals.
Share your own real estate marketing gems with us on social media!