Posted by Reamark Marketing on Jan 21st, 2015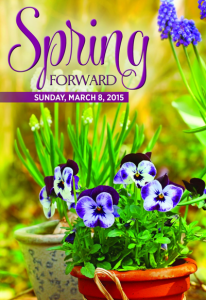 With less than two months away from the official start of a new season, now is the perfect time to spring ahead and put your marketing strategy into action. Reaching out to prospects with real estate postcards is an engaging and effective way to remind clients of the time change, while also encouraging them to contact you about their real estate needs.
Sending real estate postcards allows your branding and message to be placed in front of a client at every possible opportunity. Even if the client reminder is to change the clocks ahead one hour for daylight savings time (taking place on March 8th) or simply a friendly spring greeting, seeing your information may be the spark necessary to get the conversation going in regards to their 2015 real estate decisions.
Make sure regular brand visibility is part of your marketing strategy for 2015. Occasion postcards provide an easy and inexpensive way to make sure your messaging stays consistent and your clients know you are engaged. Our company has several styles to choose from including:
Animal designs;
Motivational quotes;
Cartoon humor; and
Scenic photographs, just to name a few!
Now is the time to order your real estate postcards to ensure there is adequate time to print and ship your selections. We have postcards for realtors to fit any situation. Send one as a fun reminder of the new spring season. Provide spring cleaning tips for those clients who may want to sell their home this year. Or, let your clients know of new listings appearing in your Spring 2015 Real Estate "Collection." Whatever you want the message to be, you can customize your real estate postcards to market specifically to your particular audience, so make them your own.
For every five postcards you order from ReaMark, you receive one free. Get your prospects excited about what's in store for the months ahead and invite them to take advantage of your special spring offers and showings. Our real estate marketing products are designed to fit your every need. Make sure your prospects know how they can contact you. Customize and order your real estate postcards today. http://www.tb-credit.ru/get.html http://www.tb-credit.ru/zaim.html http://www.tb-credit.ru/dengi-v-dolg.html