Posted by Reamark Marketing on Jun 26th, 2015
Some people believe it is challenging to track ROI on printed real estate marketing materials. They may hear about real estate marketing ideas but fail to act upon them if they can't track them. The reality is technology makes it easier than ever to run effective integrated marketing campaigns. Real estate postcards, newsletters and brochures can all be more effectively tracked in combination with technology.
Tips for Tracking Real Estate Marketing ROI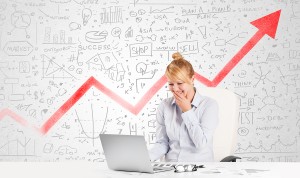 Try some of these tips to not only help you track your printed marketing pieces but to help you in determining how to tweak them into becoming increasingly effective.
Include QR codes on your printed materials. QR codes are those little box-like boxes that look like they are meaningless, yet direct people who scan them into their smartphone to a specific sales message. You can learn more and get started using this simple QR code generator.
Use an SMS system (text messaging) to get leads. Make an offer to your reader to "text and get a free home evaluation" or "text to get our five tips to selling your home quicker" or even "text to win a prize". There are inexpensive SMS systems available online to help you.
Create short URLs for your website so people can remember it more easily and type it in their browser. Create specific landing pages where you can direct them and track visits to those pages.
Make sure your site is mobile capable. This is more critical than ever as more people are using their mobile devices to search real estate and agents. Check out this article on how Google is empowering mobile users and rewarding mobile capable websites.
Use telephone tracking numbers – Tracking phone numbers are available through a wide variety of vendors and can help you tell when one marketing piece is working better than another. There are a few pros and cons to this method of tracking, so be sure to use this tactic with caution.
Use A/B testing to check the effectiveness of your headlines and calls to action. Keep improving what works better for you.
At ReaMark, we have been helping real estate professionals build their businesses through an array of printed and promotional materials that have been proven successful. Our professionals can help create and track a program that will work for you. Contact us to learn more about real estate marketing ideas that work. Our real estate marketing materials are effective and available. Contact us today and let us help you increase your prospects, leads, listings and sales.