Posted by Rick on Mar 16th, 2022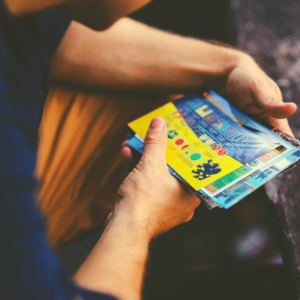 Don't let your real estate direct mail end up in the trash! Instead, learn the elements to include on every direct mail postcard to grab the recipient's attention and keep your name on their radar when it comes time to buy or sell their homes — or recommend you to a friend.
Keep it Simple
Incorporate graphics and photos of you and homes you've sold rather than stock photos, and create a clear message on what your clients should do next. Can you offer them a free home warranty or other promos that will make it worth their while to contact you? This blog will help you create amazing real estate direct mail postcards.
Craft a Strong, Bold Headline
The headline is the trick. Clear, simple, and captivating headlines are ideal. It should be the largest text on the front side of the postcard. A single image can convey an idea. Including great photos can help support your text message. It also helps to have clear text that includes a call to action. Additionally, a reasonable rule of thumb is that the headline should take up at least 15% of the front of the real estate postcard.
Agent Branding
Agent branding is the strategic presentation of your real estate business in such a manner that your intended audience of property buyers and sellers develops a sense of trust.
Your brand identification must go beyond merely informing potential prospects that you specialize in residential or commercial real estate negotiations. To establish your brand positioning in real estate, you must go deeper into your competence: What do you do better than/differently from the other agents and brokers in your area?
Use High-Quality Imagery that Supports Your Message
Great imagery can help your postcard stand out, reinforce your message, and generate a favorable emotional response. The photographs you select should be carefully considered. Ensure the photos are high enough resolution for clear printing.
The graphics should be simple to interpret and add to the message conveyed by the title. For example, if you're attempting to persuade somebody to market their property, you should show them a house with a SOLD sign prominently displayed in the front yard.
Subheads That Lead into Text
There's nothing to persuade folks to read the copy if it's just a couple of paragraphs of text with no lead-in. A subhead will direct readers to where they can begin reading.
Promote a Compelling Offer
An offer is always a smart idea, and it should include a specific reason to call right now, such as "limited supply" or "increasing interest rates."
Your Company Name & Logo
Your direct mail realtor postcards should include your name and logo for easy reference.
Have a Single Clear Call to Action
You should only have one easy-to-complete call-to-action on your mailer. Sure, you want the recipient to go to your website, like you on Facebook, and buy something, but the point of the postcard is to get a response. Choose the one that best fits your campaign's objectives, and then make it stand out. Any marketing idea you have can be conveyed through a postcard.
Contact Information
Following the call to action, provide your name, phone number, and website address. Give prospects the tools they need to do whatever you ask of them.
Return Address
A return address ensures that you receive returned mail from the post office and communicates that you are a seasoned professional. People feel more secure when they know the company they're working with has a physical address.
Even for simple direct mail realtor postcards, deciding what to do is difficult. At ReaMark.com, we have a team of experts who can help you with your real estate direct mail postcards. We can assist you with selecting the appropriate postcard and customizing a campaign to match your specific requirements.