Posted by Reamark Marketing on Aug 24th, 2016
If you are on a tight budget and want to get the biggest bang for your marketing buck, now is the time to consider a proven strategy: 2017 real estate marketing calendars from ReaMark.
Real estate marketing calendars have been building real estate businesses for agents and brokers throughout the country for decades. Clients expect them and prospects appreciate them. When you get your real estate marketing calendars into homes early, they are likely to provide months and months of exposure and name recognition. They are front and center on refrigerators, bulletin boards, desks and office spaces.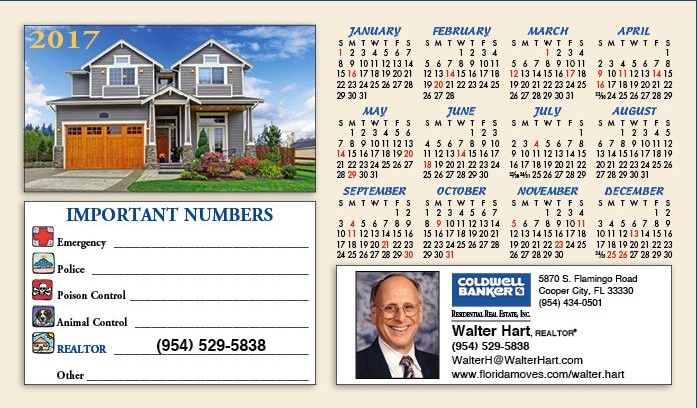 Our ReaMark real estate calendars are available in wide variety of choices to suit your budget and to build your brand. Our high-quality real estate calendars are available in a choice of ten different styles. Choose from our full-year real estate magnetic calendars, our magnetic tear-off calendars, our jumbo postcard calendars, wall calendars, house shape magnets, sports schedule calendars and more. We offer peel-n-stick stock calendars, magna-peel calendars, school calendars and more. Our team can help customize your calendar to fit your image and brand.
We understand that many of our customers are small, independent agents and brokers who need to maximize their impact. We have repeatedly seen how even the smallest of agencies have built their prospects, listings and sales through annual promotional real state calendars. One of the most effective ways to get results is to order early. That means now is the time to order for 2017.
View our options and order today. If you need assistance, we are pleased that we have real people available to help you. We even offer free customization services to best target your message. Now is the time to make 2017 a remarkable year with ReaMark Calendars. We look forward to helping you grow your business.