Posted by Reamark Marketing on Sep 3rd, 2014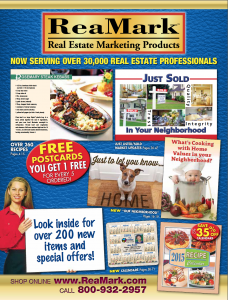 Have you ever wondered why other real estate marketing companies don't celebrate when they print a new products catalog? Because other than ReaMark, almost no other real estate marketing and promotion company prints a new product catalog!
At ReaMark, we believe it is important for our clients to have the option of browsing our thousands of items in a printed catalog. For many, seeing these items on colorfully-printed pages help them better envision the products they are considering ordering. It is not just a matter of convenience, but for many of our veteran real estate agents and brokers, it is also a matter of comfort.
At ReaMark we are excited because our 2015 catalog is almost ready. We expect the catalog to be shipped between September 5th and the 9th and encourage you to look out for it! We are proud of this new catalog with some brand new marketing and real estate promotional items, and the return of tried and true favorites.
You'll find our new catalog a great way to brainstorm realtor marketing ideas you may not have previously considered. There are direct mail marketing campaigns, and promotional and marketing pieces for every season. Our quality products will help keep you name in front of prospects and help you build leads and sales! At ReaMark, we understand you need to see an ROI on your promotional and marketing items. That's why we focus only on the real estate industry with real estate marketing ideas that have proven effective.
We don't view printing a catalog as "old fashioned". After all, we have a vibrant website with over 2,000 products you can order online should you choose. We see printing a catalog as a way to more personally reach our clients. Another example is that when you call ReaMark, you can talk to a live person who will assist you with your order details.  We even have designers on staff to help customize your products, and there's no extra charge for the service. Our team works with real estate professionals from all over, and they will be glad to help you.
As we begin thinking about the New Year ahead, we are pleased to offer you our new catalog. If you are not currently on our mailing list, simply ask for it. We look forward to hearing from you once you get a chance to browse through it!