Posted by Reamark Marketing on Aug 27th, 2014
By Rick Brown
Now is the time to plan for an amazing new year, and ReaMark is here to help!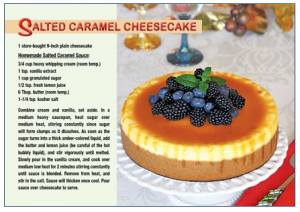 If you are looking for a fresh and consistent marketing tool to grow your real estate business, be sure to check out ReaMark's new line up of recently released recipe post cards. These realtor post cards have 12 brand new recipes, all with terrific artwork. These quality cards are designed on thick, 12 pt. card stock that is coated to be long-lasting. Vibrant colors make them attractive and attention-getting.
You can be assured that each recipe has been tried by the ReaMark staff, and all have been specifically chosen to not only be delicious, but easy to make with simple to find ingredients. Clients and prospects alike will love these cards.
Using Post Card Marketing for Real Estate
Many agents and brokers have found real estate post card marketing an effective way to farm leads. When you send out these recipe postcards once per month, you are building your name recognition and brand. You'll find prospects looking forward to getting these recipes and sharing them with their friends. It is the perfect combination of direct mail and "word-of-mouth" marketing piece…all in one!
We can even mail the cards for you or ship them for you to send yourself.  Order 5 months of recipe post cards now and receive 1 month free!
Why ReaMark?
When you work with ReaMark, you are dealing with a company that specializes in marketing products for the real estate business. We understand your mission and your goals and we provide products designed to help you reach those goals. The key is visibility and consistency and our new line up of realtor recipe cards help deliver both.
We are the only real estate marketing company that still offers our products through a mailed printed catalog. If you prefer, you can order online through our 2,000 item website. When you call ReaMark, you will talk to a real person who can help you quickly complete your order. We offer fast turnaround times and free professional designers who can customize your marketing piece.
Our creative and effective real estate marketing pieces help you get more prospects, more leads, and ultimately more sales. Contact ReaMark today!