Posted by Reamark Marketing on Aug 18th, 2014
By Rick Brown
Choosing the right real estate promotional items is critical when farming a neighborhood for listings. As we head towards the Fall season, calendars are the perfect way to touch prospects and acknowledge your current customers. Calendars are a popular item for many professions, but ReaMark focuses on designs and concepts specifically for the real estate industry. We select calendar options proven valuable to real estate agents and brokers throughout the country.
ReaMark's New Home Tips Calendars for 2015
ReaMark's brand new Home Tips Calendars for 2015 are quality, tear off magnetic calendars that will stay on refrigerators in homes for a full year. Because these calendars provide new home tips each month, your name is associated with this valuable information continually.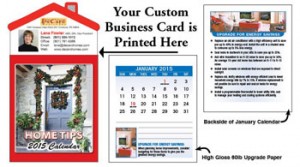 Choose from business card magnets peel and stick style calendars or have your business card reproduced directly onto the calendar. You can also have your business card reproduced on a house shaped magnet as well. We even offer free custom design from our in-house professional designers to further customize your calendars. Each calendar comes with its own "A Gift for You" envelope for individual distribution.
Calendars are produced using beautiful photos with reinforced pages to last the entire year. If you are a real estate professional and select only one promotional marketing piece per year, this should be it!  It is important you get your calendars ordered and distributed early to take full advantage of the season. Order now and save 20% off your order!
Why Choose ReaMark Calendars?
ReaMark specializes in providing the real estate professional with powerful and effective promotional tools that work. Our marketing pieces will help you acquire more leads, listings, and sales.  Our in-house professional design team can help create a look just for you!
We believe in personal service. We are the only real estate marketing company that still creates a physical catalog that we mail directly to our clients, and we constantly update our website of over 2000 products. When you call ReaMark for your real estate promotional products, you will have the opportunity to talk to a live customer service representative. These representatives are trained to help you choose the items and options that will work best for your business and your budget!
Leave a Comment