Posted by Rick on Jan 20th, 2020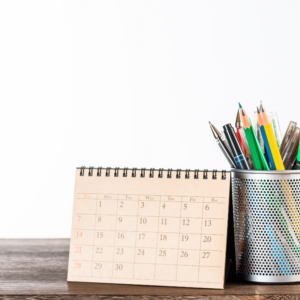 Help parents get organized for the first year of the decade by giving them a complimentary calendar. List your services and contact information while providing color-coded reminders of the first and last day of school, in-service days, holidays and early release days. When parents want to plan vacations or days off for R and R, they can glance at the condensed calendar posted on their refrigerator, bulletin board or desk. Every time they do, they see your smiling face to remind them who to call for real estate services.
Cross-Branding with School Names Is a Winning Strategy
The school name displays across the top, which makes our real estate calendars the perfect promotional item to give to teachers, school secretaries and parents who want to show school pride. One option leaves space for frequently used numbers to the right of the calendar. Customize this section with the number for local pizza shops, nearby schools, emergency numbers, and other must-have numbers that parents can use for quick references. The more useful the calendar, the more often parents and visitors will use it, increasing your exposure many times over.
School Calendars Make Great Direct Mail Stuffers
Mail out these calendars with brochures or letters of welcome to new families in the area. They mail at the 2 oz. rate, which keeps your marketing budget down. Be sure to check out our customized envelopes, which you can order with your calendars for a sharp, professional delivery.
School Dates Calendars
At 4 x 7 inches, school calendars are small enough for students to place in their lockers and for parents to carry in purse, totes, and briefcases. The School Date Calendars provide a cheat sheet of important dates, as well as prominent display areas for your contact information and graphics, as well as the months of the year. The months contain color-coded dates for holidays, in-service days and other milestones. Further, this is another marketing tool that will generate leads and help your previous clients remember to refer you to friends and family members who are ready to buy or sell a home.
Available graphics for the school name and address include a collage of children and various chalkboard themes. There are many designs and options to help you customize your orders, such as black and white or color printing, landscape or portrait orientation and a selection of information options that let you choose the best way to service your clients and potential clients.
ReaMark calendars, postcards, pens and other products are made of quality materials for long-lasting use to your clients for longer exposure time and greater return on investment. Call us today at 1-800-932-2957 to discuss any products you feel can help you market your real estate services. We are happy to strategize with customers looking for great ideas.