Posted by Reamark Marketing on Jun 22nd, 2017
If you've never ordered real estate marketing products from ReaMark, or if it has been a while, now is a terrific time. We are getting into the heat of real estate season, we are debuting some new designs AND we have some specials for you to take advantage of!
Just Listed/Just Sold Real Estate Postcards
Show your prospects you are active in their neighborhood and that houses are being listed and sold! Our Just Listed/Just Sold customizable postcards are perfect for Every Door Direct Mail (EDDM) and for farming a particular area. Choose a design that fits your brand and personality. Choose standard or attention-getting jumbo postcards in a choice of black and white or color printed backs. You can order postcards in minimum quantities of 300 but be sure to check out our generous discounts for larger orders!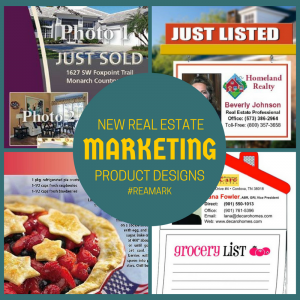 Recipe Postcards
Our recipe postcards have an amazing shelf life and often get shared to extend their reach. Many agents send these out monthly to build their reputation and groom their farm. We have more designs than ever! Choose from over 250 designs with full color fronts and a choice of color or black and white reverse sides. Your target market will love and appreciate these useful recipe postcards.
Door Hangers
Looking for better marketing on a budget? Try our "no postage required" door hangers to reach targeted homeowners. These attractive door hangers come in a choice of designs with no minimums!
You'll be glad to know our on-going special continues for our postcard selections. Buy 5 postcard designs and you'll get one free, or buy 10 postcard designs and get two free.
A Wide-Range of Marketing Products for Real Estate Professionals
ReaMark specializes in products designed specifically for real estate professionals. Our products have been proven effective for agents and brokers throughout the United States. Choose from calendars, sports schedules, informative newsletters, seed packets, notepads and more. Most of our products are customizable and come with free design assistance. Whether you are new to the business looking to build a solid brand for yourself or a seasoned veteran keeping the pump primed, talk to one of our professionals who knows and understands real estate marketing and promotion. Contact ReaMark today! http://www.tb-credit.ru/zaimy-na-kartu.html http://www.tb-credit.ru/kredit-na-kartu.html