Posted by Rick on Feb 15th, 2022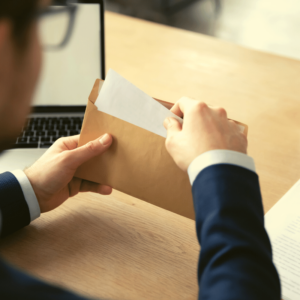 Real estate direct mail marketing is a traditional technique that works wonders when it comes to building your clientele. Whether you have just received your license or have been in the business for decades, direct mail marketing is essential for anyone who wants to become an industry leader.
Did you know that up to 90% of all direct mail gets opened? Compare this to fewer than 20% of emails sent to your mailing list. Those statistics alone are enough to open your eyes and pique your interest in real estate direct mail campaigns. However, there is ample data to convince the skeptical.
By combining personalized direct mail pieces with solid digital marketing, you can experience a huge boost in your ROI that includes:
68% boost in website visits
63% rise in response rates
40% improvement in conversion rates
The Secrets of Personalization in Real Estate Marketing
You can personalize your postcards, calendars, and other real estates direct mail marketing by including your photo, contact information logos, and URLs. It's also important to segment your mailings by the following criteria:
Geography: This includes physical location, county, town, and zip code. Every Door Direct Mail campaigns are perfect for wide local geographic reach. The ReaMark team can help you automate these effective real estate marketing campaigns.
Demographics: Age, gender, occupation, income, and education level all play a part in the type of home prospective customers can buy.
Behavior: Knowing the habits, interests, and preferences of your customers and prospective customers can help you connect with them on a deeper level in your direct mail campaigns. For instance, sending recipe cards and home tips to young families or new homeowners can provide real value and help your message resonate with recipients.
Psychographics: Paying attention and keeping your notes updated can help you connect with existing clients based on their activities, interests, lifestyle, and values
Personalize Your Real Estate Direct Mail Marketing Message
You can build brand loyalty by welcoming new customers to the neighborhood and recognizing milestones. For instance, if you helped a family get into a new home, don't forget to send them a one-year anniversary card on their move-in date.
Why Mail Marketing Works for Real Estate Professionals
According to the USPS, 93% of users are satisfied or very satisfied with the results of their direct mail campaigns. Additionally, 94% would recommend direct mail as an effective campaign to others.
The statistics just tell one side of the story, however. Real estate is a personal business. If clients do not trust you, they will not hire you to list their property or find them a new home to live in. Consistent, positive, and useful real estate direct mail marketing pieces work.
Contact ReaMark today to discuss any of our products or to put together a real estate marketing campaign to uniquely promote your personal brand.