Posted by Reamark Marketing on Oct 29th, 2014
I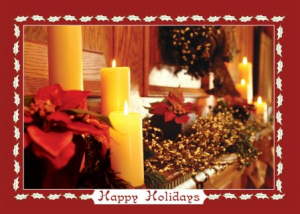 f you haven't ordered holiday cards for your clients and prospects for the rapidly upcoming season, the clock is quickly ticking. Order your ReaMark realtor holiday cards now. They are designed to suit your personality. Our new styles are out and we encourage you to order by December 5th to make sure your exact selection is available and to avoid last-minute upgraded shipping expense.
Greeting cards are not only a terrific way to stay in touch, but they are also an excellent way to show your gratitude. We help make it affordable for you by including free blank envelopes with your order. If you choose, you can add a touch of style by ordering custom printed envelopes at just 14 cents each. There is a modest minimum order of 250 when custom printing of envelopes is requested.
Cards come in vibrant full color printing on the cover and the insides are available in your choice of black & white printing or they may be ordered blank. Personalization is absolutely free on orders of 500 cards or more, but our cards are available to purchase in lots as little as 100. Each card is a standard 5" x 7" when folded.
Holiday cards are a timely, convenient and heartfelt way to show your appreciation while making yet another contact with your customers and prospects. When ordering, be sure to see how your price per card can dramatically decrease as your order amount increases! Save money and use your remaining cards next year!
Why Choose ReaMark for Real Estate Holiday Cards?
Like you, ReaMark is focused on the real estate business. Through our years of experience, we have worked with our clients in honing what works and what doesn't.
You can order directly online, or call us and talk with a customer service representative. They will help walk you through our process and assist you in making the choice that is best for you. They will also be happy to set you up with a subscription for our free printed catalog or even send you a sample of our products.
Here's a tip: Save on postage by mailing your customized calendars with your greeting cards this year. To take advantage of this technique, make sure you get your calendars ordered quickly as well.