Posted by Reamark Marketing on Oct 10th, 2014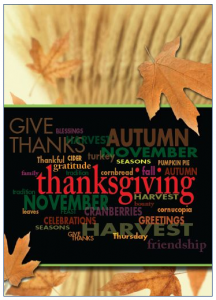 The leaves may change colors every year but one thing that doesn't change is effective marketing methods for real estate. Marketing involves nurturing and regular contact with your past clients, friends and prospects. Thanksgiving is one of the perfect times to conduct these marketing activities.
Now is the time to order Thanksgiving cards from ReaMark and still get them in time to send out. We have a wide array of choices for the holiday. We have cards that carry serious messages of gratitude to those that use humor to convey the message. We have cards that reflect football's impact on the holiday and those that contain useful recipes.
Pro tip: send your 2015 calendars out with your Thanksgiving cards and get in your homes earlier while saving on postage!
Along with a wide variety of real estate holiday greeting cards, postcards can be customized with your contact information at no additional charge. You also have the option of us mailing out the cards and or calendars for you in most cases less than you can do it yourself.
Thanksgiving cards are a terrific way to get referrals while communicating a heartfelt message. Postcards are full-color on the front, and come in your choice of personalization on the back in black and white or full color. Greeting cards full color on the outside and can be personalized in black and white in the inside. Greeting cards come with free blank envelopes or for a small charge we can imprint your contact information, a message and mailing indicia if desired.  We also offer custom Greeting cards with a small 500 order minimum.
Of course ReaMark is one of the few promotional and marketing companies that specialize in real estate products that still print a catalog. We also offer our marketing and promotional items online. When you call us, you will be talking with a real person who has experience working with real estate marketing products and who can guide you through the process. We know what products work at what times of the year and can help you create a long-term marketing program that will build your listings and your sales.
As Thanksgiving approaches, we are grateful to all of our loyal customers throughout the years. We encourage you to set lofty goals for the New Year and have a plan to make them become a reality. We would love to help you reach them, so contact us today at ReaMark!
Leave a Comment