Posted by Reamark Marketing on Oct 29th, 2015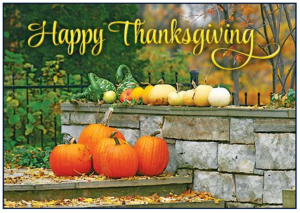 Why should you send your prospects and clients Thanksgiving greeting cards? Well, the purpose of marketing is to help you stand apart from your competition. While they will be waiting around to send their holiday greeting cards in December, you will be top of mind and first in the home this season. You may even want to consider sending a 2016 wall calendar with your Thanksgiving cards. Sending your calendar with your Thanksgiving card ensures it too, will be first in the home and increase its opportunity for use.
Order Thanksgiving Greeting Cards Before November 7th
Thanksgiving greeting cards are one of our tried and true real estate marketing tools. When you order by November 7th, your cards will ship with free blank envelopes included. Select imprinted envelopes for as little as 14 cents. Choose from multiple designs that express your gratitude of the season. Thanksgiving cards can be ordered in 100 card minimums but be sure to see the significant savings when you order more.
Holiday greeting cards are a terrific way to stay in front of your prospects and clients. They are just one of our real estate marketing items like refrigerator magnets, postcard recipe cards, sports schedules, memo pads and more. Our team of marketing professionals can help show you how to better reach into your target neighborhoods. They can show you the power of consistent drip marketing that positions you as the neighborhood real state expert.
Planning for a Successful 2016 with the Right Marketing Tools
Now is the time to plan your marketing for the New Year and ReaMark's arsenal of promotional and marketing products can help ensure your success. Many agents send postcards to their farm bi-monthly. Others use occasional door hangers, time change postcards and newsletters. If you need help with your marketing efforts, contact ReaMark today!
Discover the ReaMark Difference
At ReaMark, we have live operators to assist you with placing your orders. We have free custom design and quick turnaround times. We are always adding to our inventory with fresh ideas and designs. We still print our catalogue which is available free and we offer free samples. We will beat any competitor's prices and most importantly, we back our products with a 100% guarantee.
See why more and more agents and brokers count on ReaMark for real estate marketing tools that work. Start by being first in home this season with Thanksgiving cards in your choice of designs. Remember, order from ReaMark before November 7th for shipping with free envelopes.