Posted by Reamark Marketing on Mar 16th, 2016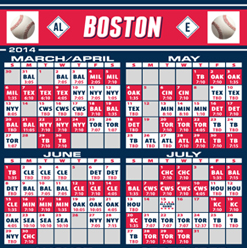 Step up to the plate this year with an attention-getting MLB baseball calendar that will give you season-long name recognition. Yes, baseball season begins April 3rd and our ReaMark baseball schedules are once again sure to be a big hit. Depending on the design you choose, these custom schedules will provide months of value in wallets, on refrigerators and on desks. Right now, real estate agents and brokers can save up to 30% on varying styles of these appreciated promotional items. Give them out at open houses, sporting events, local restaurants and bars, or mail them to your prospects.
Our ReaMark 3-1/2″ x 6″ and 4″ x 7″ magnetic real estate baseball schedules come in team colors and include all home and away games and currently scheduled times. These rounded-corner magnetic schedules can be ordered in minimums of just 100 and are available for all pro teams.
Our 3 1/2" x 9" Magna Card with business card magnet or house shape magnet is another colorful option that delivers value. This edition features a 14pt laminated card with the top portion magnetized. These are easily mailed in standard #10 envelopes.* These are available in minimum quantities of 500.
Get two great products for the price of one with our peel-n-stick business card magnetic baseball schedules. Pop out the center magnet and stick your own business card on the top of the schedules. Use the popped out portion to magnetize another business card! Talk about value! These 3 1/2" x 9" schedules fit in standard business size envelopes that are not included. You can order this style of realtor baseball schedule in minimums of just 100.
Our customized wallet-size laminated schedules are also an excellent way to appeal to the baseball fan in all of us. These 2 ¼" x 3.5" cards are in full color and printed with both schedules and your logo and contact info on both sides.
Remember, we will beat any price from anyone on any similar product. It's time to get in the game as real estate season hits full stride. Our real estate baseball schedules are the perfect, long-lasting way to build your brand.
Contact ReaMark today and learn how you can save up to 30%! Hit a grand slam with 2016 baseball schedules from ReaMark!
*Envelopes must be ordered separately.
Leave a Comment