Posted by Reamark Marketing on Mar 23rd, 2015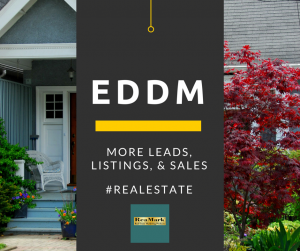 Real estate season is coming into full swing and now is the time to take advantage of it. One of the most successful tried and true marketing tactics is Every Door Direct Marketing or EDDM. This real estate marketing strategy allows you to target every home in an area you wish to farm using colorful, attractive and informative postcards.
These cards allow you to showcase a newly listed property or a property that recently sold. You can share convenient household tips or recipes with them or highlight community events or other information about your town. These cards can position you as the real estate expert in an area and help build your brand and name recognition.
At ReaMark, our real estate marketing experts can help lay out your design in a choice of two postcard sizes. Just email us your photos or logo. You will get a proof of your design within 48 hours and there's no added cost. Once you proof your artwork, your cards will soon be ready to be delivered by postal carriers to the postal zone of your choice.
With EDDM, you do not need to buy a mailing list, and no permit is required. Postage is as low as 17.5 cents per delivery. Minimum orders are just 250 cards, but be sure to check the quantity discounts for substantial savings.
ReaMark is an industry leader in real estate marketing and promotional materials. Our entire business is based on assisting real estate brokers and agents develop leads and grow their business. Many of our clients rely on us throughout the year for valuable marketing materials that consistently touch the community, helping them secure listings and sales. Our products have been tried and tested.
We are the only real estate marketing company that still produces a printed catalog for your convenience. Feel free to request one. If you prefer, search our website of over 2,000 real estate marketing and promotional ideas. Of course our team of professionals are also available by telephone to answer your questions or suggest products to help you reach your goals.
Real estate season is coming into full gear. Make sure you are prepared to make the most of it with trusted marketing products like EDDM postcards from ReaMark real estate marketing products.
Leave a Comment