Posted by Reamark Marketing on Oct 11th, 2018
A real estate agent's fate depends on their ability to make inroads with new audiences. While there are plenty of potentially viable avenues for establishing contact and forging relationships, direct mail continues to stand out. Thanks to its low-cost, straightforward nature, direct mail is one marketing strategy that isn't going away anytime soon.
Want to achieve real estate lead success? Finding great properties isn't only the challenge. In 2019, everything will revolve around finding buyer and sellers who need your expertise and getting them excited about working with you. Here's what every agent needs to know about direct mail strategies.
What Is Direct Mail?
Direct mail is a low-cost mass advertising method that lets marketers target entire populations by region. These tools make it extremely affordable to connect with hundreds or thousands of individual consumers simultaneously. This makes them quite convenient for busy real estate professionals.
Mailers can take many forms, including recipes, useful wall calendars and holiday greeting cards. It's up to the business to decide what kind of content it wants to feature, such as listing images, friendly headshots and contact details. In other words, it's a low-risk, high-return way to work out the kinks while exploring campaign strategies.
Why Does Direct Mail Suit the Real Estate Industry So Well?
Mail is an attractive alternative to other advertising methods that have high barriers to entry. Realtors don't need to pay for signage permits, mailing lists or other expenditures that aren't always even worth the money they take to maintain.
Since each mailer campaign is customizable, it's simple to achieve unique goals. Real estate professionals can easily publicize recent neighborhood listings, promote property acquisition services and raise brand awareness in close-knit communities without feeling like outsiders.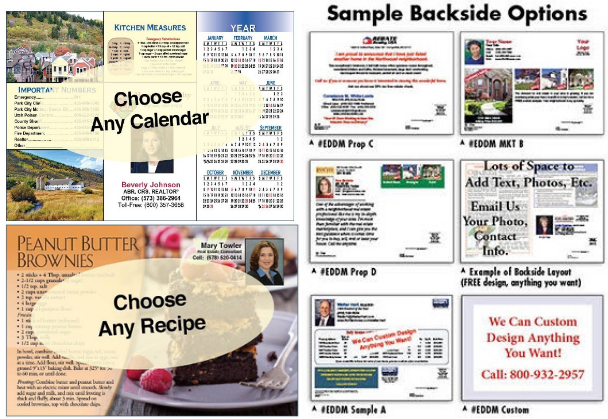 What Makes Direct Mail Low-Cost?
Cost-conscious realtors love the fact that direct mail campaigns grant them complete control over their advertising. Thanks to the widespread prevalence of bulk discounts and already-low rates, targeting a campaign to match a given outreach budget or reach a particular market segment is effortless.
While prices vary, the best direct mail providers typically offer per-mailer costs of less than a dollar for items like postcards. Although this is often more than what digital outreach impressions cost, it's important to remember that the comparison isn't strictly apples-to-apples.
Direct Mail Pricing in Context
Mail campaigns may have significantly more longevity than digital marketing can bring to bear. Their tangible presence, ability to target property owners exclusively and traditional feel all work together to grant marketing drives more trustworthiness.
Unlike online ads, which get supplanted the instant Google or Facebook finds a new campaign to promote, mailers stick around in offices and homes. Someone who receives these promotional materials in the mail might not reach out until months or years after the fact, but when it comes to lead-building, late is better than never.
Getting Started With High-impact Direct Mail
Direct mailing strategies are just one way to make a mark on the world. For real estate agents, however, they're essential tools with unmatched cost-saving potential. To learn more about the options, check out the selection at Reamark.com.
Leave a Comment