Posted by Reamark Marketing on Jun 4th, 2014
By Rick Brown
It's time that you make real estate marketing easier. The solution to simplify the process is Every Door Direct Mail, or EDDM. EDDM allows you to effortlessly deliver real estate marketing flyers to the neighborhoods you want to target. Real estate mailers become a piece-of-cake with EDDM.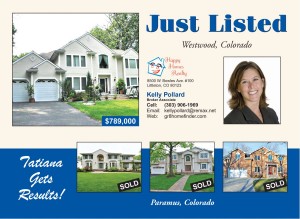 What Is EDDM & How Does It Work?
Every Door Direct Mail (EDDM) is a retail service that gives you access to every home and address in a neighborhood. It requires minimal time and effort from you. All you need to do is to choose the neighborhood or neighborhoods you want to target and the U.S. Postal Service carrier delivers your real estate mailers along with the resident's regular mail. In addition, the larger sizes of 6.5 x 9 or 8.5 x 11 gives you plenty of space to advertise your just listed / just sold / market updates and why the homeowner should choose you… The Real Estate Expert of the neighborhood.
Why Should I Use EDDM?
Using EDDM for your real estate marketing flyers is cost-effective, efficient, has a quick turnaround, and saves you time. The retail service includes a FREE custom design, does not require a permit (a $400 savings), does not require a list rental (a huge value), and gets you postage as low as 17.5 cents per mailer. The best part is the more mailers you order, the more money you save.
Each order must be in increments of 250 cards and only takes 4 days to print. For example, if you order 500 6.5" x 9" cards, you spend 49 cents per piece. If you order 1,000 cards, your cost goes down to 34 cents a piece. Learn more about your mailing route and determine what quantity will work for your business.
What Types of Designs Are Available?
Here at ReaMark we offer in house full design service. Just tell us what you want, send us any photos and we will professional design them based on over 75 years of direct marketing experience. We also offer variety of designs for real estate mailers available through EDDM. Check out the latest designs and see what the hot sellers are for direct mailers.
Take advantage of direct mail through our Every Door Direct Mail service. Pick your Neighborhood and get started NOW. Of course we offer live professional help to walk you through the entire process!
Leave a Comment