Posted by Reamark Marketing on Sep 16th, 2015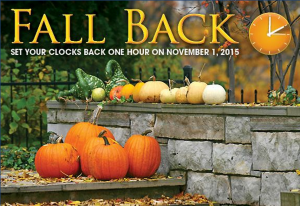 Mark the date on your calendar – Sunday, November 1, 2015. This is the date we'll all gain an extra hour of sleep-time as we adjust our clocks. A few more winks isn't the only benefit in store for real estate agents and brokers. This is a perfect opportunity to reach out to your farm, reconnecting with past customers, touching base with current clients actively looking for a new home and creating touch points for lead generation and referrals.
Fall time change post cards are a budget-friendly way to get your name in front of the community and create valuable touch-points. This year you can save even more money with a special promotion in our postcards for realtors catalog section. When you order 5 different postcards, you get one free. We have more than four dozen standard postcard design featuring glorious fall colors, endearing animal graphics and scenes that evoke pleasant thoughts of home. As always, we offer free customization assistance if you want to create a unique postcard that represents your personality or your agency.
High-quality Fall Time Change Postcards for Realtors
Professionally printed postcards are inexpensive, but make your agency stand out from the crowd with brilliant, full-color fronts and either black and white or color messaging on the back of 12pt. cardstock. Two sizes are available, 4 1/8" X 6" and 5 ½" X 8 ½". Add fall time change postcards to your regular monthly or quarterly mailing marketing efforts.
Building a Real Estate Marketing Plan with ReaMark
If you've never used a seasonal postcard mailing campaign to build your business, give us a call and allow us to explain the benefits of building a marketing campaign with color brochures, calendars, direct mail pieces and seasonal postcards. Prices for mailing your Fall time change post cards are as low as .32 per card, plus, when you order 5 sets of postcards, we give you the 6th FREE!
ReaMark values our relationship with all of our current agents and brokers and we welcome the opportunity to help you build your brand and grow your business. Need help exploring marketing concepts to connect with your farm? ReaMark can help.
Leave a Comment