Posted by Reamark Marketing on Jul 14th, 2017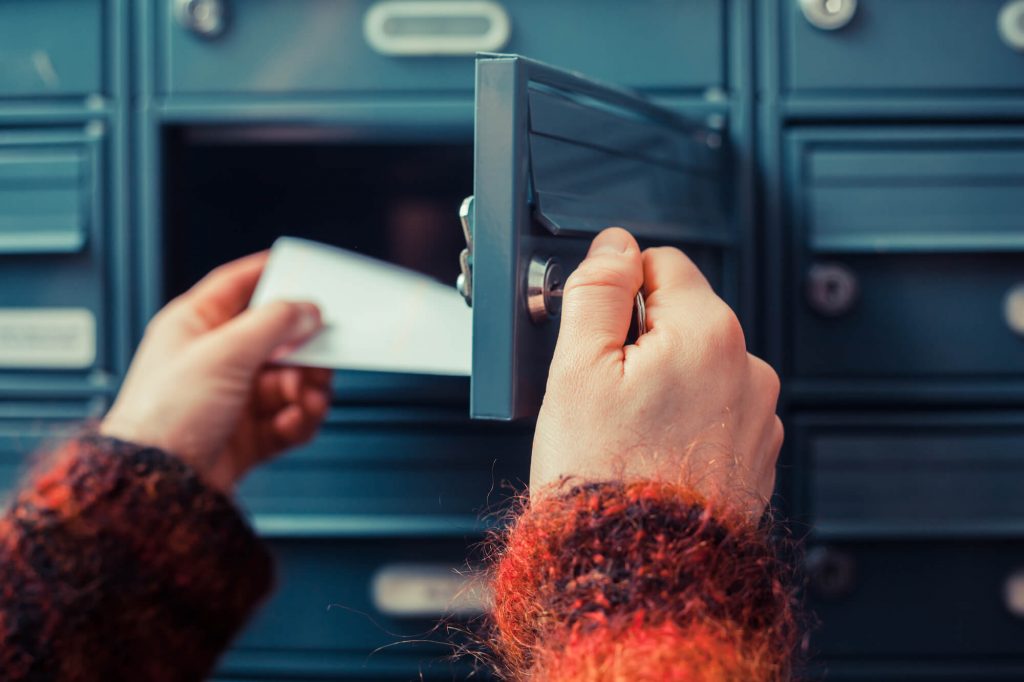 Stop me if you've heard this one:
"I can't tell if my direct mail marketing is working!"
Well, now we have a way for you to track the success of all of your individual print campaigns with branded short links. The result will be a link similar to rea.mark/roi that you can customize for each piece of marketing that you send out. You can then track how many people went to your website for more details on the property or offer! Sounds great, right? Follow these steps to combine the power of direct marketing with your website.
Warning: This post is not for the faint of heart when it comes to technology, BUT it is very effective. Proceed at your own risk.*
What you will need:
A website with Google Analytics installed
A spare domain name
A free Rebrandly account
A few great print marketing ideas
Part 1: Purchase a short Domain Name
The first thing you will need is a domain name that is different from your regular website.
Why?
In order to create customized links, we have to have a separate domain to add to a link shortening service, like Rebrandly.
To get a short domain, go to a domain registrar such as GoDaddy and search for your desired domain. Or, to make things really easy, you can go straight to Rebrandly, login, and click "Domains" > "New Domain."

The goal of this new domain is to try for something as short as possible that is a variation of your brand name.
Here's an Example:
Say your firm name is The A Team (and kudos to you for having such a cool name!) you could search for one of these variations:
TheA.team      A.Team       ATeam.RE       TheATeam.RE
Notice that these don't end in .com? That's because we are no longer confined to a .com .net world! Not all variations are available just yet, but there are a lot of great ones out there. Play around with it, but make sure you keep the goal in mind: keep it short and on brand.
Once you've found the perfect short domain, go ahead and purchase it. It should be less than $20 per year and many are as low as $4.99 per year. Don't get bamboozled into spending $10k on a domain when there are plenty of variations out there to choose from.
Part 2: Set up your Branded Short link
There are a bunch of URL shortener services out there, but we are going to show you how to do this in Rebrandly for a few reasons: they've been around for a while, they have a convenient Chrome browser plugin, and, best of all, it is free.
If you haven't already, open an account at Rebrandly.com and go to "Domains." If you purchased your domain on another website, you will need to click on "Set Up DNS (for experts only)" then follow the instructions on getting your branded domain set up.
Not an expert? Go ahead and call your registrar's support line and have THOSE experts set this part up for you.
Part 3: Use your Branded URL to Track ROI
Now you're ready to start tracking visitors from your postcards!
The Rebrandly Chrome extension makes this really easy.
Navigate to your website page to which you want to track visits.
Click on the Rebrandly icon in the top right of your browser window. A pop-up window will appear with your link.
Click on the sprocket icon to expand settings.
Click on "UTM Brander." (This allows you to track visits in Google Analytics Campaigns)

You want to fill out these three fields:

Campaign Source = postcard (or EDDM or newsletter, which ever type you will be sending.)
Campaign Medium = print
Campaign Name = select one or two words specific to this marketing piece

Example: cherry-lane, q4-update, or seapoint-estates

Next, from the drop down box, make sure your shortened branded domain is selected. Then – and this is the best part – you can customize the end of the URL!

Example: A.Team/Q4

Make sure "Copy to Clipboard" is selected (it will be green) and click "Save."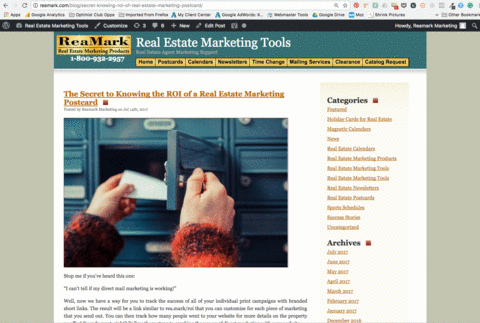 How easy is that to include on your print marketing?!
NOTE: You must be sure that this EXACT URL is in your marketing materials. We would also recommend testing it out yourself to make sure that everything is working properly before sending out any marketing campaigns.
Part 4: Order Your ReaMark Print Marketing Material
At this point, you've probably already selected a postcard or marketing piece from our website that you'd like to send. You can either order online or give us a call and we will make sure that your short, trackable URL is included in your design by our professional designers.

Part 5: Track Your Website Visits
You didn't think you were done, did you? Now you have to see how many people actually visited your website! You can see how many clicks you got right in your Rebrandly dashboard OR you can dig deeper with Google Analytics (GA). That's the whole reason we used the URL builder, right?
To see how many visits you got in GA, log into your account and click on Acquisition > All Campaigns. There in the first column, you will see the name of your campaign, how many visits came to the website, how long they stayed, and much more!
Do this consistently for all of your real estate marketing materials and you will really see what is working for you and what needs improvement.
Bookmark this article and share it with your friends!

*Because of the sensitive nature of domain registrars and third party applications, the Reamark team will not be able to set the short domains up for you. Please have your short URL ready when you place your order with us. We will be happy to add the shortened, trackable links to your professional print marketing materials!
This article is intended as a suggestion and we make no guarantees about the functionality of third party websites. We also assume no financial or legal responsibility for results of following the advice given here.
Leave a Comment