Posted by Reamark Marketing on Feb 3rd, 2015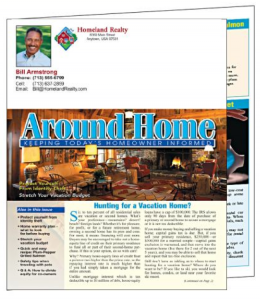 Get your clients excited about what you have in store by keeping them up-to-date with quarterly real estate newsletters. Now is the time plan for what your theme will be for this first quarter and what news you want to share. When it comes to real estate marketing tools, newsletters allow you the opportunity to feature one of your properties, include your logo or contact information, list information about the neighborhood, or provide home buying tips for first time homeowners.
People want to know why they should select a particular area and what makes it a good place to call home. Newsletters give you a chance to feature all the benefits and amenities your home listings and neighborhoods have to offer. Think of using your real estate marketing tools as a personal guide for potential clients to peak their interest about the housing options available to them.
There are two types of printable newsletters to choose from: half-fold and tri-fold. Depending on the type of marketing message you want to send, large customization areas are available for both types of newsletters. Creative ideas of what to include in your real estate newsletters are:
neighborhood market updates
community event calendars
home selling tips
information about the area
This is your chance to approach your clients in a friendly, informal way, but also leave them with valuable information and insight as they hunt for the perfect home. It is a way to keep your name on their radar as a professional who can lend a helping hand when it comes to all their real estate needs.
First time buyers or people new to your city are especially looking to rely on the opinion of someone who's knowledgeable in the industry and can help answer any and all questions about the area. Let them know they can turn to you with confidence for all their real estate inquiries. Order your quarterly newsletters for the upcoming spring season and receive 15% off your order.
Leave a Comment