Posted by Reamark Marketing on Aug 10th, 2017
Next year can be your best year ever when you include 2018 real estate marketing calendars as part of your plan. There are plenty of reasons real estate calendars are such a foundational tool for so many real estate professionals. Now is the time to choose your calendars and get a step up on the competition. and ReaMark is here to help.
Why Real Estate Marketing Calendars Are so Valuable
Why are real estate calendars so popular?
People use them! It's true. In spite of our personal devices, many families use physical calendars to visualize their month and family plans. Open-block style calendars allow room for users to write in birthdays and special occasions. Many use them as a way to communicate plans to others in the family.
They are visible. Many of our calendar styles at ReaMark are created to be displayed in the home. Our magnetic calendars, for example, end up on many refrigerators and are seen every day by family and friends. Your information is front and center when professional real estate services are needed.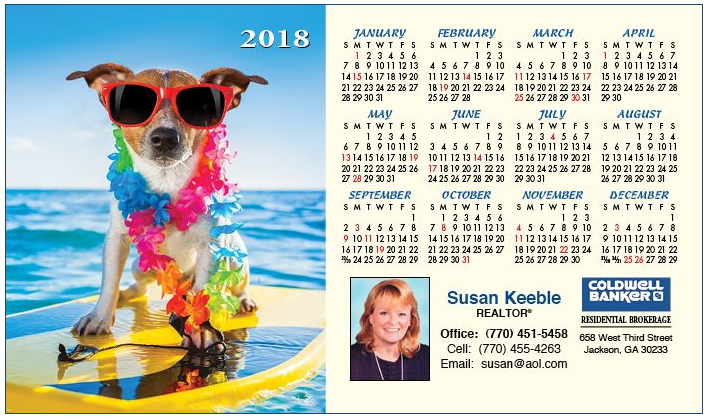 They provide long-lasting value. For real estate agents in search of getting the biggest bang for the buck, it is hard to get a better return than on our real estate marketing calendars. Calendars are usually distributed in November or December of one year and the calendar provides value through the entire next year. That's marketing value!
Calendar designs are available to best brand you. ReaMark offers so many designs for a variety of personalities there is certainly one to communicate your image. Select from designs that include "Home Maintenance Tips", "Recipes", "Motivational", "Sports", and so many more. You can also choose from pocket calendars, wall calendars, magnetic calendars, and others.
They can be customized. Not only can you choose a design and style of calendar to best communicate your brand, you can create your own personalized graphics, logo, and message. Our team of marketing professionals is here to help you customize a design specifically for you.
They are on sale NOW! To help you get your calendars "first in homes", we are offering calendars specials of 20, 30, and 35% off some designs. Now is the best time to order your 2018 Real Estate Marketing Calendars.
Order Your 2018 Real Estate Marketing Calendars Today
Ordering your real estate marketing calendars now is the smarter, faster, and more efficient way to get your 2018 marketing program underway. Choose from 400 different designs in 10 different styles when you visit our calendar section of our website. Of course, if you need assistance, contact one of our experienced marketing professionals. We are ReaMark and we've been serving real estate brokers and agents for over 17 years!
Leave a Comment