Posted by Reamark Marketing on Dec 1st, 2015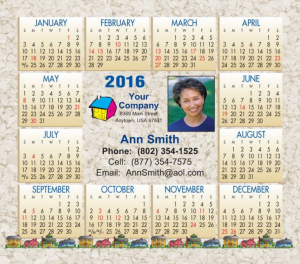 Magnetic calendars have long been a standard of real estate marketing. Each year, real estate agents and brokers give away these calendars as a small token of appreciation during the holidays. Why have these calendars remained so popular through the years? Simply put, they work. Beyond the fact that they are effective, let's take a look at 4 other benefits of using magnetic calendars for real estate agents.
Magnetic real estate calendars provide year-long value. Many clients and prospects will immediately place these attractive calendars on the refrigerators upon receiving them. There it will stay all year, keeping your name and contact information front and center. Our calendars are the highest quality at 25 Mil thick. This is thicker that most others.
You have a choice of styles and designs. You have a wide choice of designs and styles with our magnetic calendars to suit your personality and branding. If you don't see something you like, contact us and our in-house graphics department will design one specifically for you!
We ship our calendars quickly. Your calendars could be in your hands in just 7 to 10 days! We offer FREE proofs and you don't pay until you approve your proof. This is yet another benefit of our own, in-house graphic design department.
When you order from ReaMark, you can order with confidence. ReaMark is celebrating our 15 year anniversary. We have over 40,000 realtor customers all over the United States. We have built our business by offering a range of advertising, marketing and promotional materials design specifically for the real estate industry. These are tried and true products that work.
Keep in mind, with real estate calendars you want to be one of the first in the home. That means the time to order your calendars is right NOW. Our magnetic real estate calendars will improve your branding and help increase your leads. Of course, those leads can help make 2016 your best year ever!
At ReaMark, we are proud to still offer a printed catalog of our items along with our vibrant website. When you call us, you will talk to a real person who is trained to assist you. They can walk you through the graphic options or help you customize your own. They will even suggest ideas to help improve the ROI of your marketing dollars. Contact ReaMark and order your 2016 magnetic calendars today. We look forward to assisting you.
Leave a Comment