Posted by Reamark Marketing on Feb 21st, 2017
If you haven't yet ordered your print marketing postcards for your real estate business, get ready to. EDDM (Every Door Direct Mail) postcards can generate mountains of customer leads for you and your agency. Your biggest challenge will be how to organize your new call list.
EDDM is a service provided by the USPS where you can have your postcards delivered to every door on a route without having to put a name or address on it. When you combine this service with ReaMark's print marketing postcards, that's a winning combination too good to pass up. When you order your custom postcards or pre-designed postcards at ReaMark, be sure to include the following for best results.
1. Your Professional Photo
Homebuyers and sellers like to see whom they will be spending their time with. When you include your professional photo on your postcard, new customers will be able to see that you're professional and friendly looking. For the best photos, hire a professional photographer. Selfies won't deliver the professional lighting and other effects you'll need.
2. Knowledge About the Area
Buyers and sellers like to know they're working with someone who is familiar with the area. Prove that you're a "local" by including some pertinent information about the neighborhood, such as information about a local house that just sold, or trends in the local real estate market.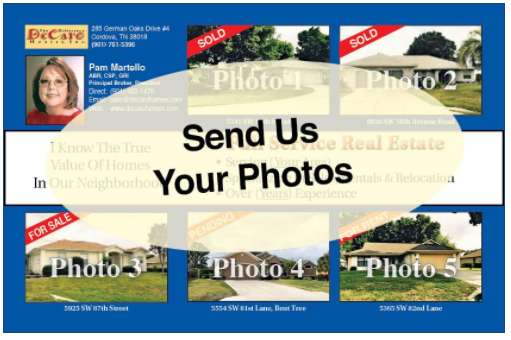 3. A Line About Your Expertise
Don't forget to include something about what makes you the expert. Under your name, mention how many years you've been in the real estate business or any certifications or awards you have. This will tell buyers and sellers that when they work with you, they're working with an expert.
3. Lots of Color
Your postcard should be bright and colorful. Remember that it won't be the only thing your potential customers receive in the mail that day, so you want it to really stand out. Use images with lots of color and positive imagery to entice recipients to read it.
4. All the Ways to Contact You
Be sure to include all your contact information; not just your phone number. Remember that different people prefer different ways to contact professionals. Some may prefer text, others email and still others like calling on the phone. Let your customer decide by including all the ways they can get in touch with you.
Print marketing postcards and real estate newsletters are made even better when you remember these essential elements to include. Get your postcards today at RealMark.
Leave a Comment