Posted by Reamark Marketing on Jun 11th, 2014
By Rick Brown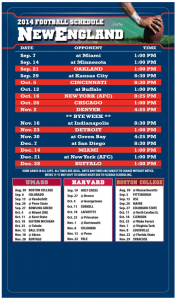 You might be thinking, "football season is still a few months away, why do I need to order my football schedule magnets now?" The answer is because the first real estate agent to deliver a magnetic football schedule to a home is the first one to get their magnet on the family's fridge. The fridge is valuable marketing real estate and football fans only need one team schedule on their fridge. Order football schedules early to ensure prompt delivery and get ahead in your market.
When it comes to real estate promotional items, magnetic football schedules appeal to a wide audience. Football is the most popular sport in the country and appeals to men, women, and children of all ages. Come Fall, many families will schedule their activities around the football game schedule. At ReaMark, we offer full-color football schedule magnets and have a variety of different styles and sizes to fit every marketing budget.
Order Football Schedule Magnets Now
Summer may have just started, but that doesn't mean you can take a vacation from your real estate marketing strategies. In fact, now is the time to get ahead of your competition and put in your order for magnetic football schedules. Waiting until the end of the summer to order your magnets puts you at a disadvantage and increases the risk that another realtor has already gotten their magnet on the fridge.
Early Order Discounts
Ordering your real estate promotional items early has another benefit: cost savings. If you place your order for football schedules before July 1st, you get a discount on your order. Save between 20% – 35% on orders depending on the items purchased. Prices go up after July 1st.
Don't put off ordering your football schedule magnets until it's too late. Get a discount by ordering before July 1st and get your magnet up on the fridges in your local market.
Leave a Comment